7,107 islands in the Philippines and we only managed to see 10 in total on our 3 week trip. There is so much to see and do here, you could spend 3 months easily. As most people don't have that amount of free time and cash….here's a guide on how to make the most of your time in the Philippines! What to do, what to skip, and what to pack. I have highlighted essential items to bring in blue below.
Highlights (just to name a few…)
Kayaking through the Big Lagoon, Bacuit Archipelago –  El Nido, Palawan
Swimming through a cave to a secret beach, Bacuit Archipelago –  El Nido, Palawan
Zip lining from one island to another on Christmas day – Corong Corong beach, El Nido, Palawan
Watching the sunset on Christmas Night – Corong Corong beach, El Nido, Palawan
Canyoneering and waterfall jumps in the jungle –  Kawasan falls, Badien, Cebu
Snorkelling with turtles in Turtle Bay –  Moal boal, Cebu
Swimming with whale sharks – Oslob, Cebu
Watching fire flies on the beach, Panglao Island Resort, Bohol
First Stop – Manila
We arrived in Manila exhausted from our two flights from Dublin. As soon as you leave the airport you are bombarded with locals trying to put you in a taxi. Luckily we had a booked a hotel close by, The Belmont. As we walked out of the airport (Terminal 3 with Emirates airline), we were able to see the sign for our hotel. We crossed the crazy Manila traffic, with the help from a local making the same crossing, and we were at our hotel in minutes! Delighted! Saved ourselves a taxi fare and a long drive sitting in Manila's ridiculous traffic.
http://www.belmonthotelmanila.com/
There are other hotels beside it too. We picked the Belmont because it has a roof top pool, which was a nice way to chill out on our first night in the Philippines. We had an early (ish) flight to El Nido the next day.
Our taxi from the Belmont hotel to Terminal 4 cost us 75 peso (1.50 euros) in a metred taxi.
Taxi's
If your hotel isn't near the airport I highly recommend downloading the 'Uber' or 'Grab' app before you arrive. We used this on the last day of our trip as white meter taxis were refusing us due to crazy traffic. A 50 minute taxi ride cost us 200 pesos (4 euros). In a metred taxi you could pay 550 pesos (9 euros) or more. With Uber and Grab the fare is set before you get in the car, so you know what you're paying.
Second Stop – El Nido, Palawan
You must fly into El Nido airport. It's an experience in itself. The run way is in the middle of a jungle and the airport is a thatched roof nipa hut structure with Filipino women singing as you arrive. They even serve drinks and budbud (amazing sticky rice snack wrapped in banana leaves). My favourite part was the 'baggage area'.
We got a tricycle to El Nido town for 250 pesos (5 euros). We stayed in Bulul Garden Hotel. It was a simple room with en-suite and terrace. Cheap and cheerful for El Nido accommodation prices at Christmas time. We used agoda.com (as recommended for Asia travel) to book most of our accommodation. It gave us the impression that there wasn't many rooms left at Christmas time, but once we went for a walk we saw plenty. So don't panic if you haven't pre-booked.
http://visit-elnido.com/bulul-garden-hotel/
We tried to book into Spin Designer hostel. It's brand new and looks great!
You can also stay in Maldive style huts on stilts on the water, on the tiny islands of the Bacuit Archipelago, but expect to pay big money.
Pre-warning
El Nido Wi-Fi and electricity are not dependable. We bought a travel a SMART sim card in terminal 4 airport with data, which was slightly more reliable. When we first arrived our air con and room fan wouldn't work for an hour or so. Some fancier, more expensive hotels have a back up generator. Bulul said they had a back up too, but it was currently under repair. It worked the rest of our stay, thankfully! Prepare yourself for a taster of the dark ages! Bring a torch!
Malukuy is a nice spot. Walk to the end of the beach to the right and just around the corner there is Malukuy accommodation with a bar/restaurant. You can eat on the beach or chill on their upper terrace bean bags with a view.
If your visiting at Christmas time and your awake at the break of dawn due to jet lag, walk to the local church and enjoy a Filipino mass at 4.30am. The Philippines is 90% catholic and they celebrate Christmas from September to January 6th.
We went to mass on Christmas eve at 8pm and watched the fireworks from a rooftop bar, before heading to Pukka bar for the nightlife in El Nido. It's a reggae bar with a surprisingly decent reggae band. They also seemed to have a local Italian OAP who did at least one song a night. He's quite fantastic to watch! I can still hear him singing his high pitched notes!
SAVA bar on the beach is a pretty good spot before you head to Pukka bar. It's more chilled out. The Mezzanine restaurant/bar is a good spot too, and has a nice terrace over the water.
Tour A
Tour starts at 8.30am and finishes around 4/5pm. We had breakfast at the Boutique Art Café (where we booked our tours). They were great and I recommend them. You can also pre-book with them online.
http://www.elnidoboutiqueandartcafe.com/
The tours cost about 30-35 euro each and lunch is included. I requested vegetarian lunch, knowing that the Filipino cuisine is meat heavy. The rice, salad, pasta and fruit in the standard lunch were nicer than the veggie noodles I was offered, so don't stress if you haven't requested veggie. They cook the fish and meat on a BBQ that hangs off the back of the boat, and you eat on one of the island beaches.
You can do this tour with or without kayaks. They brought them on the boat and you can use them at each of the stops. We hadn't done this and quickly regretted it. The swims were longer than I was expecting, and you couldn't put your feet down to rest as the guide warned us of sea urchins. On the second stop we were able to rent a kayak from a man in a wooden stall built on a raft. 300 pesos (6 euros) for the stop. Bring some cash on Tour A for the last stop on 'seven commandos' beach. It has a bar 🙂
Bring sea shoes or fins. Ciaran rented fins and I rented some sea shoes of Jo from Seattle, who has a stand around the corner from Boutique Art Café. 100 pesos for the day (2 euros) and worth it! I was gutted I forgot to pack my sea shoes, as I would have liked them for the rest of my trip. Sea urchins, jellyfish, crabs and dead coral are on nearly every beach! Protect your feet, and don't ruin your trip!
I also brought a snorkel and mask, if you don't you MUST rent one. The fish below the surface on the coral reefs cannot be missed. While we're on the subject, bring a dry bag and a waterproof camera. I use a Go Pro and although they are expensive, they are worth every penny.
Tour C
Tour C is very similar to Tour A. You'll do island hopping, snorkelling, and beaches, but the best part was the secret beach. Getting there involves jumping off your boat and swimming through cave. It's like a smaller version of Leonardo Di'caprio's home in 'The Beach' movie.
Helicopter island has some local goats which love licking the salty water off your skin. There was also a bizarre moment on this island where we could hear ice cream van music. It was coming from the ice cream boat, of course!
Corong Corong beach
The next day we checked out and got a tricycle to corong corong beach (150 pesos/3 euros). They drop you off at the top of some steps and you have to walk down the steps and walk along to the end of the beach. My advice would be bring a backpack. Ciaran had to trail his suitcase on wheels through the sand.
Corong Corong beach still in El Nido, but we wanted to stay somewhere different for Christmas Eve and Christmas day. We booked into Las Cabanas. This place is a bit more expensive than Bulul, but a little more authentic. We stayed in a large nipa hut, and they have hammocks and a thatched café/bar right on the beach. It's the perfect spot for the sunset! Don't skip the sunset here!
Christmas day
In the morning we did a zipline (500 pesos/10 euros each). The zipline runs from corong corong beach across to the next island. The zipline itself was less scary than standing on the dodgy timber structure that they have built for the zipline. It's a health and safety nightmare, which added to the thrill!
We had a couples massage on the beach that night before heading to Greenviews for dinner on the beach. Don't forget your torch, as you'll be walking along the darkened beach to get a tricycle.
I should explain the tricycle. It's essentially version of the Thailand/Cambodian tuk-tuk. It's a motorcycle with a welded side car. You will see whole families squeezed into these little inventions.
Christmas is a big  deal to the Filipinos. They put their Christmas decorations up in September, and celebrate right through until the 6th of January. Obviously there are no pine trees, so they make Christmas trees out of everything imaginable, and they decorate their palm trees with Christmas baubles.
What we missed
From what I've heard, you really can't miss this. Squeeze it into your schedule. It's just a  45 minute scooter ride from El Nido town. I'm gutted we missed it!
For some reason every blog I read before our trip said Tours A+C are a must. I planned around that advice, but if I'm honest, Tour B looked pretty good too, especially 'Snake island'. If I'd spent more time there, I would have done this too.
Third Stop –  Puerto Princessa, Palawan
We got a bus from El Nido to Puerto Princessa and arrived in Puerto Princessa around dinner time. We got a tricycle from the bus station (150 pesos/3 euros) for a 30 minute journey, the same price as a 5-10 minute journey in El Nido. We quickly realised how much cheaper the city was in comparison to El Nido. Be prepared to pay more in El Nido.
We booked into Puerto Pension Hotel, which was fantastic in every way, bar the location. It was close to the airport, but we didn't have a great selection of options for dinner and ended up in McDonalds. (Ps. There's no veggie burger in McDonalds, I had two portions of chips instead). You can also try Jollibee's, which is the Filipino version of McDonalds, with rice and chicken meals (probably no veggie options either).
Other than that, the hotel was great. We had booked the wrong dates and they changed it free of charge when we arrived. They served breakfast on a roof terrace and they have a hot tub, hammocks, thatched roofs and free airport transfer. I also loved the eco-friendly elements.
The Lonely Planet guide suggests a trip to the underground river. It's recently been given UNESCO World Heritage status. We skipped it because a friend said it was underwhelming, and we didn't have much time to hang around the next day.
We flew from Puerto Princessa to Cebu via Manila. If I was to plan this trip again, I would consider flying from El Nido to Cebu and save ourselves the long bus journey and wasted day of travelling.
P.S. The airport food options aren't great! The airports themselves are tiny, so don't expect much more than a waiting room with chairs. Eat before you go!
Transport in the Philippines
Buses may arrive on time, or they may not. They might not even arrive at all. If you are told the journey is 6 hours…add a couple of hours to that figure around Christmas time.
We had pre-booked an air con bus at 11am from El Nido bus station to Puerto Princessa. We arrived at the bus station at 10am to be told there was no 11am bus. We could get this bus now (non air con), or we could wait for an air con bus at 1pm. My instinct told me that the bus might not show up at 1pm, or it might show up but not be air con, and we would have waited three hours for nothing.
The bus was to take 6 hours, but it took 7.5 hours. We were travelling the day after Christmas and the bus made more stops than I can count, leaving locals back home after their Christmas with family.
In my opinion the non air con bus wasn't a big deal as long as the windows are open and the bus is moving to create some air flow. Ciaran hated it! He refused to get on any bus that wasn't air con after that.
If you hate public buses, you can rent a mini van and driver for slightly more. I suggest that you don't book online, just go to the bus station when your ready and suss out your options when you get there.
Fourth Stop – Cebu City, Cebu
The flight to Cebu was bizarre because you fly to Manila, get off your plane, walk out of the airport and back into the airport to get back on the same plane.
When you leave the airport you will be greeted with a huge taxi queue (white taxis). If you don't want to use Uber or Grab apps to get a taxi, walk to the front of the queue and you will find another queue for yellow taxis. Yellow taxis starting price is 70 peso, white taxi starting price is 40 peso. You skip the ridiculous large queue for 50 cents. We couldn't believe people were staying in that queue for the sake of 30peso/50 cents, or maybe they weren't aware there was another option! Our taxi cost 225 peso/5 euros, but it would have been cheaper with Uber, had we known.
We stayed in Castle Peak Hotel. It was good fun. The staff Christmas party was on in the function room, and we were invited to join in the festivities. We ended up in a nightclub across the road with the locals! The Filipino's are the nicest people I've come across travelling (close second to the kiwi's and the thai), but don't take my word for it…go out and meet them yourself!
The hotel has a nice roof terrace bar and a small spa, gym and dipping pool on the roof.
http://www.castlepeakhotel.net/
We got a taxi to Cebu South bus terminal (130 pesos/3 euros), and the chaos began! I'm not sure if all city bus stations in the Philippines are as mad as this, or if it was just like this over Christmas time with people coming and going to see family! My god it was hell!
There was a non air con bus to Moal Boal, we skipped this one and waited for the next bus to come, hoping it was air con. Thankfully it was only a 30-40 minute wait. The bus arrived and Ciaran and I split up. He pushed his way onto the bus to claim two seats, while I made sure our bags were put on the bus. Then I had the horrendous task of getting on the bus.  Twenty minutes of shoving, pushing and shouting and people moving in both directions! There was an old woman in front of me and a woman with a new born baby behind me! If you don't get a seat you can sit/stand on the floor and wait for someone to get off, or wait for the next bus and try all over again!
The good thing about the public buses….they are ridiculously cheap! For a 2.5 hour bus we paid 160 pesos/3 euro each. Saying that the bus took 4.5 hours on the way there, but not our way back, so I assume it was just the Christmas craziness.
Fifth Stop – Moal Boal, Cebu
We jumped in a tricycle to Turtle Bay resort (150 pesos/ 3 euros). Turtle bay was slightly more expensive than our previous accommodation, but you get what you pay for. There was a pool, spa, and dive shop. Turtles on our door step, great views of the sunset, and huge bungalows. The staff were amazing too, and we got friendly with the owner and her family, after some karaoke, fireworks and endless drinks on New Years Eve.
Rent a snorkel and some fins and swim out into the bay! You're guaranteed to see turtles. We saw three, and Ciaran went out again and saw another three! One was munching on some coral! It's such a treat to share the water with these gentle creatures!
Turtle bay is slightly secluded, so we got a tricycle to Pangasma beach for a nosey (150 peso/3euros). It's the touristy area of Moal Boal with lots of bars, restaurants, accommodation and dive centres etc. The beach isn't great! There's a better beach in Moal Boal called white beach. We watched the sunset at the Chilli Bar in Pangasma.
We booked Kawasan Canyoneering trip with Cyan Adventures (3450 peso/60 euros). Water, snacks (budbud and bananas), lunch and beer included. The lunch was really tasty and they cater for vegetarians.
You have to do this tour!! It was one of my favourite days in the Philippines. The water is turquoise and warm! You're basically floating through a jungle, and jumping off waterfalls. Some of the jumps were high. I struggled with a couple of the jumps, but you don't have to do them if you don't want too! You finish at Kawasan falls. We stopped for a quick swim behind the waterfall, or you can pay to be brought out on a wooden raft.
http://www.cyan-adventures.com/en/
I highly recommend booking with Cyan adventures. They make a great effort to get good photos and videos of your tour. We saw other tours going down the waterfalls and over the rocks in their shorts and t-shirts, a helmet and a life jacket. We got wetsuits, booties, helmet and life jackets, so we avoided scraps and cuts on our legs and arms while bouldering. We also got a 'butt slide' that went over your butt to help you slide down the waterfalls.
You can book other great tours with them too…like the sardine run and swimming with the whale sharks.
You can watch the video of us jumping off waterfalls on 'The Wandering Boomerang' Facebook page…
https://www.facebook.com/thewanderingboomerang/
We booked the whale shark tour with our hotel. They picked us up at 5.30am to drive the two hours south to Oslob. We left early to beat the crowds, which is a laugh! There was 100's of people when we arrived. We brought fins, masks and snorkel, but they provide you with snorkel, mask and life jacket. Our tour cost 5100 peso/100 euros, which included the transport, swimming with the whale sharks, the gear and breakfast after. You can also do this tour from Panglao island, Bohol for 3000 pesos if you're heading that way anyway, and your on a tighter budget. We only realised after that we got ripped off, shop around!
When we first saw the amount of people and how it was set up, we were slightly disheartened! Trust me, once you're in the water, it will just be you and the whale sharks. You'll maybe see one or two other people swimming nearby. Don't be put off, it was an amazing experience and worth the high price tag.
The whale shark is the biggest fish in the shark family, and can grow up to 12 metres long. They have even spotted and recorded 18 metre long whale sharks. These gentle giants have no teeth and eat plankton, so you'll be safe in the water with them. Saying that, their mouths can be up to 2 metres wide and could swallow me whole, so it is slightly frightening. From a distance they look like great white sharks until you're up close and can see the spots.
They have strict rules to stay 4 metres away from the animal and you are not to touch them. They threaten with a heavy penalty. This is an unrealistic rule to set as the whale sharks swim right up beside you or under you. I spent a lot of time trying to keep my distance from them to avoid touching them with my fins.
You can scuba dive with the whale sharks, and we saw divers below us. If you can afford to do both, great! If you can only afford one experience, I would recommend snorkelling. The whale sharks swim close the surface, especially in Oslob, where they are fed.
I deliberated for a while on whether to do this tour or not. Ethically, I am still undecided. They feed the whale sharks plankton until 12pm everyday, so tourists are guaranteed to see plenty of whale sharks. The daily feeding has disrupted their migration habits, but I also read that if they migrated as normal, they would swim right into Chinese waters where they are hunted for fin soup.
http://news.nationalgeographic.com/news/2014/01/140129-whale-shark-endangered-cites-ocean-animals-conservation/
The whale shark is a protected endangered species and they have marine biologists in the area who's main job is to look after and monitor the whale sharks. It's completely up to you to decide if it is ethical or not. If you would prefer a more natural experience with whale sharks, you can swim with them in Donsol, Bicol. The whale sharks migrate through Donsol waters, and they do not feed them. I would have done this tour if we had managed to make it over to Bicol.
http://www.sharkdivingphilippines.com/whalesharks.html
Sixth Stop – Tagbilaran, Bohol
We got a bus from Moal Boal to Cebu City. This time it only took 2.5 hours!
Then we got a taxi from the bus station to the ferry terminal and booked the next boat to Tagbilaran. We ended up staying in Metro Centre Hotel. It wasn't great and I can't recommend it. In fact I can't recommend Tagbilaran at all. It has a huge church and fast food restaurants. Skip it if you can! We should have got a tricycle straight to Panglao island. We left first thing in the morning. The taxi took 20 minutes.
Seventh Stop – Panglao Island, Bohol
We felt like treating ourselves, so we booked into Panglao Island Resort. We got a package deal that included our room for 3 nights, breakfast, dinner, 30 minute massage in the spa, and our Bohol tour.
It's a beautiful resort and you stay in a thatched room bungalow. There's a private beach, two pools, games room, spa, gym and its own cave you can swim in. We walked to the beach beside ours, and it was full of Filipino families and local kids! As always they were friendly and welcoming. We even got invited to eat with them.
Panglao Island Resort has its own islet, called Dream Islet. It's used for weddings I assume, but you can walk/swim out to it depending on the tide. It also has a cave on the resort!
We were sitting at the bar looking out at the beach and I spotted some fireflies! So exciting! You can also do a tour from Tagbilaran with 'Kayakasia' that takes you out on kayaks to a spot where there's hundreds of them.
The Bohol tour
Blood Pact Memorial

 – between the invading Spanish and the Filipino tribesmen.

Coral stone church

– one the oldest coral stone churches in Asia. They used coral stone compacted into blocks, and egg white to stick together. This church is being restored after the most recent earthquake in 2003.

Tarsiers

– smallest primate – can only be found in Bohol

Chocolate Hills

–

 

brown in the dry season, green in wet season.
Hanging bridges  – bamboo bridges across the Loboc river

Floating restaurant – Loboc River

Snakes

– this is like a make shift zoo, and I hate zoos! Avoid this place if you can! Snakes should not be kept in Tupperware, and the monkey was pacing back and forth in his tiny cage 😦
We checked out of Panglao Island Resort and got a taxi to the other side of the island to Alona beach. This place is more touristy, but still very small and quaint. We stayed in Alona Vida. I highly recommend it! It's right in the centre of the beach, cheap, big rooms and even a small pool.
Last Stop – Manila
We stayed in Durban Hotel, Makati. Do not stay here! Our room had no window, and there was construction going on. They were ripping down handrails outside our room (noisy and unsafe). It was also around the corner from the red light district, so you would see women and old sleazy men creeping around. That's probably what the hotel is used for. Makati is the modern area with bars/clubs/shopping centres/cinemas etc. but it's too far from the tourist sites (not that there's many in Manila).
Rizal Park
Intramuros
Who knew manila had an old walled city? It's fairly small and you can walk around it. If you enter through the main gates and walk straight to the end, you'll hit all the main attractions. Casa Manila, churches, chapels and Fort Santiago at the back, which includes the Rizal memorial. If you stop at Casa Manila, you can rent bamboo bikes for the day!
Who is Rizal?
Jose Rizal is the Filipinos national hero, and quite an interesting character.
He was executed for being involved in the revolution, although from what I've read he didn't have much part in it, other than writing some books in his early years that had revolutionary undertones. He spent a lot of time abroad, and was more of a aristocrat than a freedom fighter. He spoke 22 languages, wrote two novels, and numerous poems. He was an artist, a sculptor, and he discovered a species of frog and lizard, which are now named after him. To top it all off, he even won the lottery.
After Intramuros, we got an Uber taxi to the Mall of Asia. This place is so huge we spent most of our time walking round in circles. We aren't big shoppers, so we headed outside to Manila bay to watch the sunset on the wall, and chatted to some locals.
They have fireworks every Friday and Saturday at 7pm. So we stayed for the fireworks, had dinner and headed home! It was a nice way to end the trip!
I felt like I had to see Manila while we were there, but in all honesty I wouldn't waste time there if your trip is short. If I ever get the chance to go back, I won't be making time for Manila. Use it as a stopover and get to the islands.
What we missed
Boracay – Famous for its white beach that one 'best beach in the world'. I left it out of my itinerary, as it is hard to get too and twice as expensive as anywhere else in the Philippines. It has Starbucks and a McDonalds, and is so busy you can't see much of the white sanded beach. A good friend who I travelled with in Thailand, advised me to skip it! She said 'I know what you like, and you'll be disappointed you spent time there, when there's much better places to be'.
North cemetery, Manila – A cemetery that featured on the show 'Human Planet'. The residents live in the cemetery with their buried beloved. The structures form a shelter. I don't believe it's very touristy, more like a slum.
Coron island – you can get a boat to Coron and do a five day island hopping tour to El Nido, where you sleep on the beaches. You can also go the other direction, if you fly into El Nido and get the boat tour to Coron. Sounded amazing from the travellers we met.
Diving with thresher sharks – Malapascua Island. North of Cebu island.
The Sardine Run – Moal Boal
Manit Springs – Moal Boal
Banue – North of Manila. Rice terraces, Hill tribes and hanging coffins.
Waterfall restaurant – 1 hour from Manila
Volcanoes and crater lakes – throughout the Philippines
Apo island – full of turtles
…and many, many more no doubt!
TRAVEL WARNINGS
I should also note that there was a travel warning for the whole of Mindanao region and the south section of Cebu. We stayed in Moal Boal, which is just on the cusp of the 'danger line'. We made a day trip to Oslob and Badien. We didn't experience any trouble or feel in danger in any way. However, I would advise that you avoid all travel to Mindanao for the foreseeable future. It's been on the travel warning list for a while now. I also asked some locals, who explained it was dangerous. There was a Canadian foreigner beheaded in June 2016. This is a troubled area and this warning is not to be taken lightly.
On a brighter note, we saw no trouble in Manila. This was surprising after the press Manila had before our trip, with talks of shootings in the streets. We saw none of that and felt totally safe in Manila. The president is cracking done on drug criminals. He has allowed for a 'shoot to kill' policy on anyone selling or buying drugs. When he started his war on drugs he gave drug dealers and addicts six months to hand themselves in. All the locals we spoke to, speak fondly of him, and support his radical way of dealing with drugs.
https://www.gov.uk/foreign-travel-advice/Philippines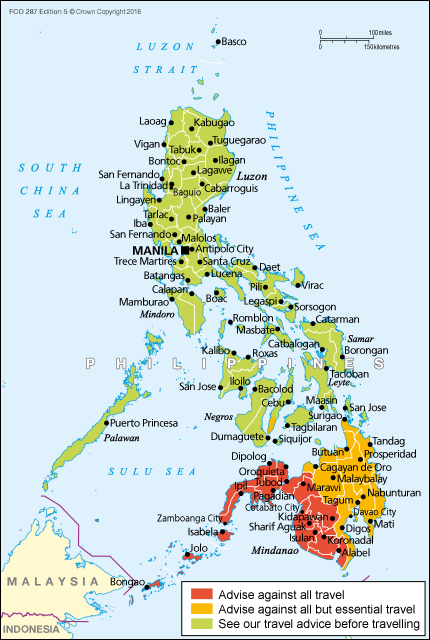 TIPS
50 pesos = 1 euro
food and drink isn't as cheap as you would think, unless you stick to local pilsner/red horse beer and Filipino dishes.
We flew with Emirates and they had signs everywhere about the Samsung Galaxy S& phone. You are not allowed this phone on the plane. Be sure to check before you arrive at the airport, or you will be told to abandon your phone.
Terminal fees 100-200 peso (2-4 euros).
I read on several blogs that you should keep your check in bags to a 10kg maximum to avoid additional charges in Philippine airlines. I'm a good packer and my backpack was only 10-11kg. Ciaran's was 18-19 kg but he didn't get charged once. We used Air Asia, Philippines Airlines.
What to pack! I've highlighted some critical items in

blue

, throughout the blog. Bring torch, snorkel, mask, fins, Go Pro or underwater camera, dry bag, sea shoes.
Check out my 'Packing Bible' blog for more tips…
https://thewanderingboomerang.com/2015/03/17/the-packing-bible/
The Wandering Boomerang All Purpose Packing List…
https://thewanderingboomerang.com/2015/09/08/my-all-purpose-packing-list/
Travel planning…
https://thewanderingboomerang.com/2016/10/01/travel-planning/
Suitcase Versus Backpack…
https://thewanderingboomerang.com/2016/08/02/suitcase-versus-backpack/

What we spent
1250 euros for our flights, Dublin-Dubai-Manila. Flights are dearer at Christmas and we booked pretty late.
Internal flights ranged from approximately 120-200 euros each, but we booked last minute, so you could probably get cheaper if you're organised. We flew Manila to El nido, Puerto Princessa to Cebu city, and Tagbilaran to Manila.
We booked our hotels and accommodation on Agoda.com, so our accommodation wasn't included in our spending money.
We brought 750 pesos each in cash. Ciaran ran out of money in our last few days, but I had plenty left over. 650 pesos for 3 weeks would have been enough for me, depending on where you go and what you do. It's hard to give an exact figure. Some of the tours were expensive, for example the whale shark tour was approximately 100 euros.
We didn't really haggle on this trip, and I would like to suggest that you don't, if your budget allows. When I was backpacking around South East Asia as a student with little money, I had too (although I wasn't very good at it). When you realise you're in a third world country and you see the living conditions, you'll feel guilty and stingy arguing over 50 pesos (1 euro). It's also an element to travel that I'm not good at and don't enjoy! Leave it out of your day to day interactions and enjoy your trip even more!
I spent £40 on malaria tablets (recommended by the NHS), to be told later by our travel doctor that you only need malaria tablets if your on immune suppressors. Please don't take my word for it, go to a professional. We used 'Travel health' in Dublin! I can't recommend them enough! They really knew their stuff, and if you have any trouble while you're on holiday, you can email your doctor directly for advice. He also told us they use Scotland NHS recommendations for their travel advice, as they believed them to be the best.
I get tortured with mosquito bites. Order some decent deet from your chemist. Our travel doctor suggested the one below, as some of them are pretty useless.
What we ate
We flew with Emirates, and I was able to request vegan food on the my flights to and from the Philippines! The food was great, and better than some of the meals on our holiday!
The Filipino cuisine is very meaty. I read a lot of travel blogs before the trip. Funnily the majority of them were vegetarians and they all said, you will struggle with food in the Philippines. I had geared myself up for a diet of rice and mangoes (having already read about the incredible mangos). I was pleasantly surprised! Nearly everywhere (bar one or two) had vegetarian options and seeing that butter, cream and cheese are expensive for the Filipinos, you won't find a lot of it in your veggie food, which is great news for vegans!
Check out happycow.com for veggie/vegan food spots. They have more than you'd think!
https://www.happycow.net/asia/philippines/
The mangos in the Philippines deserve a mention, because they are THAT good! One day I had four in one sitting, and I would probably have kept going, but I didn't want to deprive anyone else of these delights. Do not leave the Philippines without having some mango.
Budbud is a sticky rice snack, wrapped in banana leaves! Really yum!
Balut is a fertilised duck egg with an almost developed embryo. The egg will be eaten in the shell once it has been boiled. I think they use chicken eggs as well. They kept trying to make us eat it! I've never been so happy to play the vegetarian card!
Blogs to check out…
He has a few on the Philippines…read them all!
http://www.journeyera.com/philippines-backpacking-guide/
I wish I had found this travel blogger's video before my trip. It's a must watch!
Check out my Philippines Pinterest Board for more blogs…
Follow me on Pinterest, Facebook, Instagram, Tumblr.
https://instagram.com/kylie_braithwaite/
http://thewanderingboomerang.tumblr.com/
If I've missed anything important, please comment below! I'd love to hear about your experience in the Philippines!
Enjoy your adventure and return safely!
The wandering boomerang